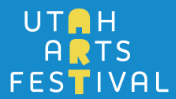 This is a Ball will be screening as part of the children's film program at the Utah Arts festival.
The festival runs June 23rd-26th. Screenings will be every half hour in the Art Yard, Noon–8PM.  This program is designed for children 3 and under.
The others films playing will be:
This Time It's Shopping, 4 min, Maine
Elephant and Friends, 2 min, Utah
Movies in Clay, 3 min, Canada
The Midnight Tourist, 5 min, Washington
Farewell, My Short, But Brilliant Life, 3 min, New York
If your in Utah, check it out!