I was interviewed by Animation Mentor to discuss This is a Ball and my passion behind creating the film.  It was a real honor to be included on their blog.  Read it on their site or below.
---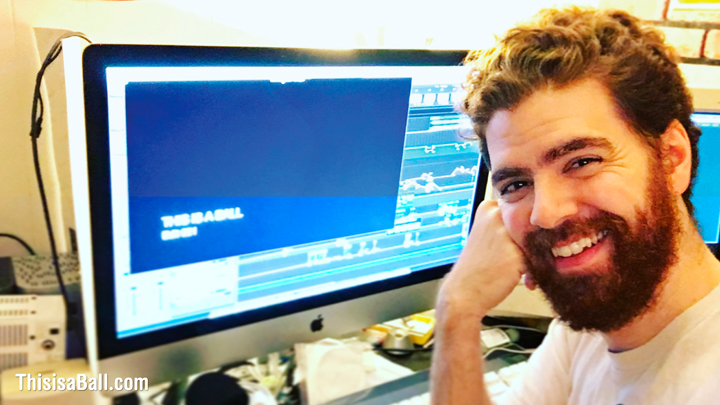 This month's
Where are they now?
series features Jeff Starr, a 2010 graduate of Animation Mentor. Since graduating from Animation Mentor, Jeff's been a part of a couple cool projects, one being his first short film – what an accomplishment.
Short films are known for their meaningful stories bound with compelling themes. Read along as Jeff takes us through a personal experience where he sheds light on a powerful topic that's relevant in today's society all over the world. Allow his story to inspire you in more meaningful ways in both life and when you animate
– The Animation Mentor Crew
---
ANIMATION MENTOR: The message of the film is so inspiring and opens up a dialogue about bullying. What inspired you to make this short film?
JEFF: After I finished the Character & Creature programs at AM I spent months polishing the shots on my reel and adding some new material. I really wanted to add something that would, hopefully, stand out from the crowd of demo reels. I had previously graduated from film school (BFA Pratt Institute, 2002) and I wanted to make an animated short. I was feeling extremely frustrated as I knew that my modeling skills were very limited. I felt trapped. I knew my short film would have to be very basic so I set limitations and I decided to use simple shapes. That's when the idea of a bouncing ball came to mind. I knew I could model a Sphere! I also loved the idea of a bouncing ball because it was the foundation of all the animation assignments I had ever done.
I am also a big fan of the 1965 Chuck Jones short "The Dot and the Line" and that reassured me to follow my bouncing ball idea. Following a cue from that film, I liked the idea of setting the animation to narration. At first the poem I wrote was about the Ball showing off it's ability to communicate emotions, like an actor on an audition. This didn't provide the depth I wanted. Knowing the ball needed to face a conflict I thought about my own life. As I've written about on my website (ThisisaBall.com), I was bullied horribly in high school so having the Ball be bullied because he is afraid to bounce came to mind. This seemed like a good way to take my own experience and use it.
I now had an idea that I felt I could actually execute. I figured it was something I could finish pretty quickly too.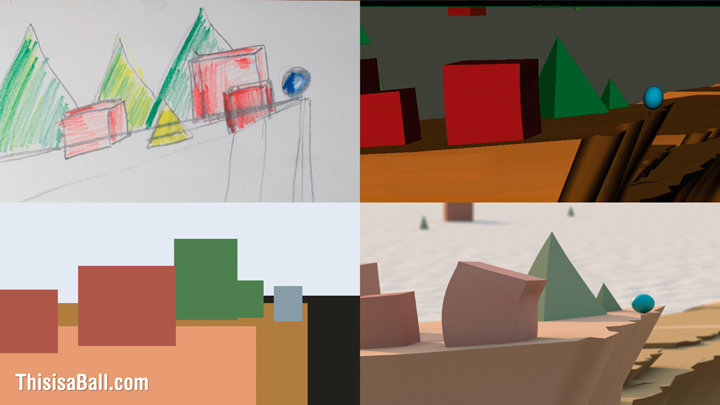 ANIMATION MENTOR: How long did it take you to finish this film?
JEFF: Oh man, if I had only known this before I started! From my first draft writing the poem until I uploaded the final movie to YouTube it took me three years and 9 months! I had a full time job when I started AM so I had become comfortable finishing my assignments late into the night and on weekends. I figured I would do the same thing and knock this movie out in a few months. But, nights and weekends also meant that sometimes I would only have 1-2 hours to learn how to rig an object. Or, it would just give me enough time to review the render from the night prior, make a handful of quick fixes and then set the whole shot to render yet again. The animation alone took a lot longer than I expected. So before I knew it, a year had gone by. And, then another.
Also, midway into the production my son was born. I think we all know that babies are exhausting and many nights I collapsed on the sofa having done nothing.
But, he was a major reason why I felt the need to finish the movie. When he was first born his arm was badly damaged and the doctor told me that it may never function. Here I was making this movie about bullying, inspired by my own experiences of being bullied and now the mental images of my son being mocked and teased because of his arm were terrifying me. I was in full-on protective daddy mode and I felt helpless. I was able to put that emotion into the movie. I knew that I had to finish the project no matter what; I hoped that maybe it would somehow protect him and lift his spirits when he was old enough to watch it.
After months of therapy his arm fully recovered. While he might never be bullied over his arm it really made me realize how bad my experience with bullies had been and how I never wanted him to endure that. I felt that the film was now about something important, something beyond a demo reel. I really hope that it will provide comfort to anyone feeling that they don't fit in and who may be bullied.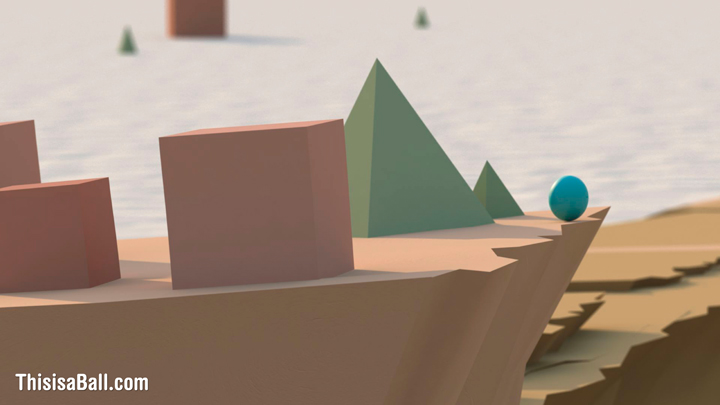 ANIMATION MENTOR: What were the challenges of making this film?
JEFF: Everything! Basic things like modeling and rigging but also crazy weird problems when I started to render it. The animation performance also demanded a lot of planning. Communicating emotions with such simple shapes was really difficult. Because my main character was a ball – and a ball that was afraid to jump – I quickly realized what a big challenge I had set for myself. Having a face would have been nice!
Another big question that I had to ask myself in the beginning was if I should even include a narrator. I knew that having one might be controversial, especially with the whole, "show don't tell" mantra of filmmaking. I even made an entire edit of the film without the narrator where I only used the characters and sound effects to tell the story. Ultimately this wasn't the film I wanted to make and I had to trust myself and do it the way I wanted. This would be a question I would ask myself again and again when I would get feedback from other filmmakers. Usually someone would suggest that I lose the narrator and I would find myself wondering if I was making the right choice.
Another big question I asked myself was about the visual look. A lot of contemporary CGI shorts are very polished and hyper real. I had chosen to avoid this aesthetic and keep things basic. This was another area where I began to wonder if I had made the right choice.
Oddly, the direction of sunlight was also a huge question I needed to resolve once I began rendering. I have a handful of posts on my blog describing that problem.
The biggest challenge was knowing when to stop. There are still little things I wish I could adjust. Toward the end my wife joked that I was going to make myself insane if I kept obsessing over insignificant things like .002 changes in ambient light reflections. She was right.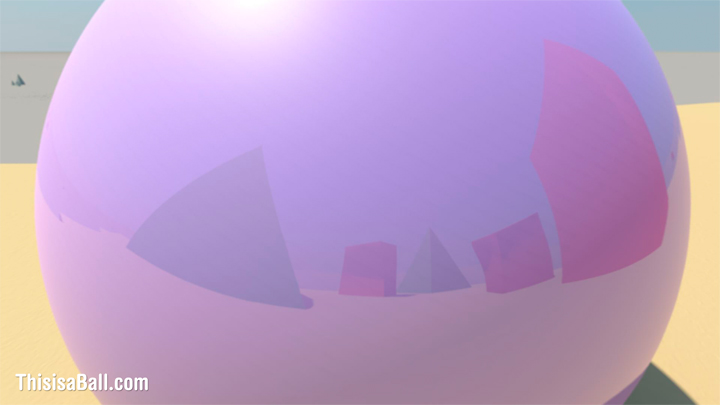 ANIMATION MENTOR: What shot or phase of the film taught you the most?
JEFF: There is a shot where the camera zooms into the ball and we see the triangles reflected in his surface as they laugh at him. This was a big breakthrough for me. I had actually removed that line from the poem in my second or third edit. By my 20th edit of the movie, I thought I was done. I had finished all the animation, rendering and I had composed the soundtrack. I brought the film home during a holiday and played it for family. They responded strongly to the movie, but I just wasn't happy with the pacing. I also felt it was still hard to connect emotionally to the ball.
Days later I went back and looked at my original concepts. The line, "He doesn't want to believe their words, but he is scared they are right" stuck out to me. I felt it had the weight my story needed. I also remembered a comment that my mom had given during the screening about how she liked the subtle reflections in the Ball. That's when I had the idea of zooming in on the ball and seeing him being mocked in the reflections. This felt like a nice visual metaphor.
Since I had already composed the soundtrack, I needed to cut a giant hole and find a way to seamlessly add about 10 seconds of music. That was a pain! When I finally resolved the music and I had married it with the new animation I felt that I had finally fixed the pacing.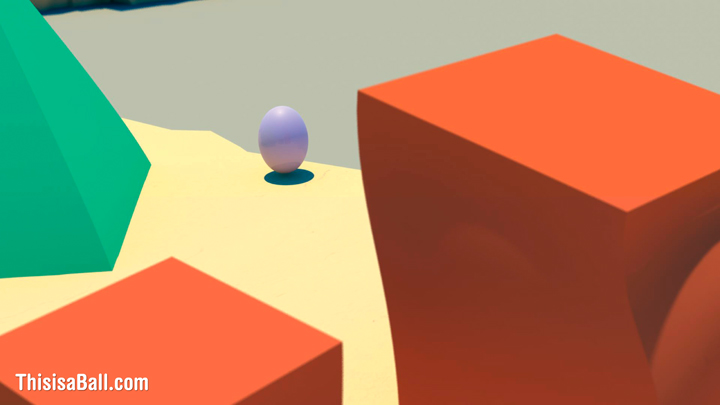 ANIMATION MENTOR: What advice would you give to an aspiring filmmaker?
JEFF: Just do it. Don't stop. Do your homework beforehand so that you understand story, conflict, editing, etc but learn to trust your original inspiration and just finish the movie. Even if you end up with a bad movie you can at least say you did something. Don't be held back by limitations. Being an artist means finding creative solutions to the project's limitations. It's your solutions to those limitations that make your artwork interesting and unique. It's what makes it yours.
ANIMATION MENTOR: Tell us a little about your journey since you graduated from Animation Mentor.
JEFF: This film been my major animation project since graduation. I currently manage a team of Production Artists in a marketing department. With my current employer I have been lucky enough to have had a series of promotions that I feel are a direct result of the skills I polished with Animation Mentor. AM sharpened my eye for detail; and, thanks to all the feedback I received and gave to other students my written communication skills are really honed. I wouldn't trade my education with Animation Mentor for anything. It re-ignited my passion for animation while giving me the actual skills to see my ideas come to life in the way I wanted. Being able to do this has given me a huge sense of satisfaction. Like everyone, I want to work on the next big animated feature but being able to produce my own movie on my own terms has been a hugely rewarding experience.
ANIMATION MENTOR: What else has Animation Mentor taught you?
JEFF: So many things! Besides what I've already said, I really learned how to be my own critic and not lie to myself. When making this film I needed to ask myself a lot of hard questions. "Is that the best animation choice?" And, "Does this really help the story?"
Before Animation Mentor I might have made excuses and not fixed those things. Now I just added them to a list of fixes to make. Sometimes I had to make giant changes and it required starting sequences over. Thanks to AM I could see those needs a lot more clearly.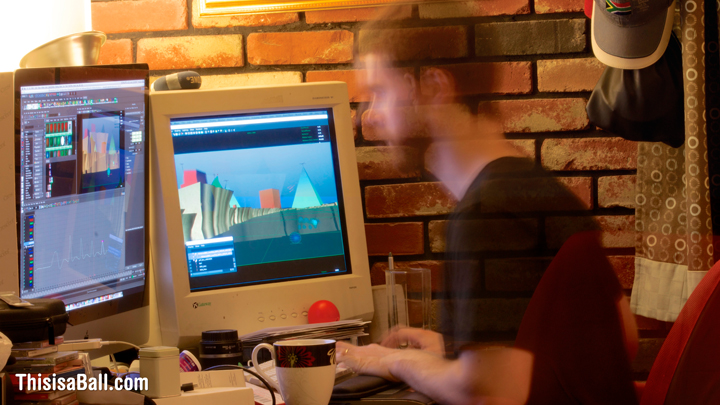 ANIMATION MENTOR: What are you going to do next?
JEFF: Update my demo reel! Considering that's how this last project started I'm pretty excited to see what develops this time!